The catchment area of the Trümmelbach is the glaciercovered north and west walls of the Mönch (4099 metres), the Jungfrau (4158 metres) and the Eiger (3970 metres) and also the sources that rise on the Lauberhorn (2472 metres) with the extensive Wengernalp. The whole area measures about 24 square kilometres, half of which is covered with ice, névé and eternal snow.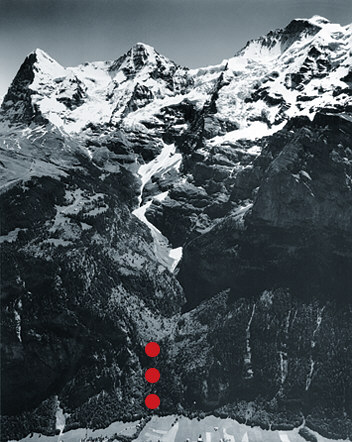 Nowhere else in the Alps can one so safely and easily approach the faces of high mountains. The difference of altitude from the bottom of the valley near the Trümmelbach (820 metres) to the peak of the Jungfrau is 3338 metres, although as the crow flies the distance is only about 5 kilometres. Such a phenomenon does not occur anywhere else in the Alps.
The Trümmelbach is born in eternal ice and snow. In summer its waters are, so to speak, "the milk of the glaciers".
Rocks are constantly falling onto the glaciers from the rocky precipices above them, like a steady rain. The glaciers convey this debris down to the valley and the pressure of the ice crushes it into pebbles, sand and loam. The loose scree accumulates at the sides of the glaciers, and at their lower ends, to form moraines. It is the loam and sand washed out of the glaciers and the moraines by the melting snow and ice that make the water look like milk. The amount of debris transported down the mountain each year in this way is enormous. Scientists at the Hydraulics Experimental Laboratory of ETH (Federal Institute of Technology), Zürich, have worked out that the Trümmelbach carries about 20'200 tons, or over 20 million kilograms, of material into and out of the valley every year. Much of this ends up at the bottom of the capacious Lake of Brienz. The clay, sand, gravel and boulders carried along by the river grind away at the rather soft limestone along its banks and erode it. Here we can see at work the mighty natural forces that formed the Alps and still are forming them. The Trümmelbach gorge is like a giant crevasse in the limestone. On its black bed the water in summer is whitish glacier milk and in autumn it is crystal-clear, blue and green. But it is always covered with clouds of foam as it roars down from one rocky basin to the next.